The leader of Kenya's opposition has claimed he was cheated of victory by an overnight hacking attack that he said manipulated the results in the country's presidential election.

"You can only cheat the people for so long," Raila Odinga said. "The 2017 general election was a fraud."
With ballots from 94% of polling stations counted, results released by Kenya's electoral commission showed the incumbent, Uhuru Kenyatta, leading with 54.4% of the vote, against Odinga's 44.8%, a difference of 1.3 million votes.
Millions of people queued late into the evening on Tuesday to cast their votes in an election seen as a key test of the stability of one of Africa's most important countries.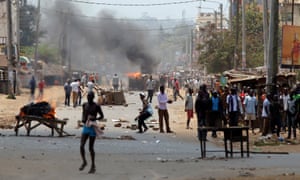 Though the polls passed peacefully, there are fears that Odinga's angry supporters could take their struggle for power to the streets in the coming days.
Speaking at a news conference in Nairobi, Odinga claimed hackers had broken into election commission computer systems and databases overnight to "create errors". He urged his supporters to remain calm, but added: "I don't control the people."
Odinga's deputy in the National Super Alliance (NASA), Kalonzo Musyoka, also appealed for calm but said the opposition might call for unspecified "action" at a later date.
Shortly afterwards, Kenyan police in the western city of Kisumu fired teargas at a group of 100 opposition supporters who had been chanting "No Raila, no peace". Protests were also held in the poor Nairobi neighbourhood of Mathare, an Odinga stronghold.
Odinga, a polarising figure who was making his fourth bid for power, said on Tuesday night that the early results were "fictitious" and "fake", telling a late-night news conference that his party's own tally put him ahead.
"We have our projections from our agents which show we are ahead by far," Odinga said.
The former political prisoner and businessman also claimed that the murder of a senior election official last week was linked to an attempt to rig the polls. Chris Msando, the election commission's head of IT, was found strangled and torturedin a forest on the outskirts of Nairobi.
The EU observer mission declined to comment on Odinga's claims, which election officials have said they will investigate. "We will come up with a methodology to verify the allegations made on hacking," said Waguma Chebukati, the chairman of the electoral commission. "For now, I cannot say whether or not the system has been hacked."
The Kenya human rights commission – a well-known non-governmental organisation – said it had discovered some discrepancies in an initial comparison between provisional results announced by the election commission and paper forms signed at polling stations by party agents.
Many Kenyans say a repeat of the violence of 2007 is unlikely as the country has learned from the traumatic experience. One voter told the Guardian during polling that younger citizens wanted "peace, peace, peace".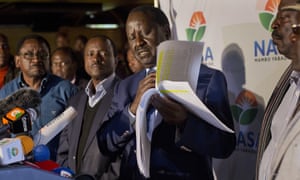 In 2013, Odinga also rejected defeat. He took his fight to the courts and lost.
Odinga supporters interviewed in recent days said they would not take to the streets if they believed they had been fairly defeated, though they insisted their leader had been robbed of victory during the last two polls.
"There won't be any problems if the process is fair and transparent, but if it is being rigged there'll be chaos," said Paul Ouma, a bus company manager, before the poll.
Young men in Mathare predicted that "life would never be the same again" if the opposition lost. "People will fight … it will have been stolen," said Brian Aswani.
In Kibera, another poor neighbourhood where Odinga is popular, young men said they would wait for their leader's decision. "If we lose, then we will wait for our leader Raila [Odinga] to speak. If he says it is OK, then it is OK. If he says fight, we will fight," said Abraham Ashidiva, 24.
Odinga, 72, is the son of Kenya's first vice-president. He is an ethnic Luo from the west, an area that has long felt neglected by the central government and resentful of its perceived exclusion from power.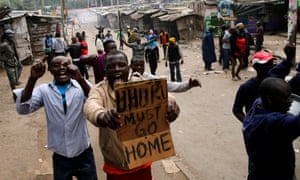 Kenyatta, the 55-year-old son of the first president, Jomo Kenyatta, is a Kikuyu, the ethnic group that has supplied three of the four presidents since independence from Britain in 1963.
On Tuesday, Kenyatta called on whoever lost to concede. "In the event that they lose, let us accept the will of the people. I am willing myself to accept the will of the people, so let them too," Kenyatta said as he voted at the Mutomo primary school in Gatundu, about 20 miles north of the capital.
Later, Odinga told the German broadcaster Deutsche Welle that he would accept defeat "in the unlikely event that I lost fairly".
To win the election, a candidate needs one vote more than 50%, and at least a quarter of the vote in 24 of Kenya's 47 counties.
In addition to a new president, Kenyans are electing regional politicians after a 2010 constitution devolved power and money to the counties.
Observers see the election as the last confrontation of the dynastic rivalry between the families of Kenyatta and Odinga, which has lasted more than half a century. The presidential candidates' fathers, Jomo Kenyatta and Jaramogi Odinga, went from allies in the struggle for independence from Britain to bitter rivals.